Drones for Police, Fire and Public Safety
It's amazing how quickly UAV (unmanned aerial vehicles, or "drones") technology has progressed. Is your department, team, or city keeping pace? Police departments, fire departments, public safety offices and law enforcement agencies of all varieties are using drones to gather intelligence, safely evaluate threats, apprehend criminals, find lost hikers, even diagnose industrial accidents and explosions.
Drone technology adoption needn't be difficult or expensive. You can use a rental drone to evaluate different price points and features, testing various models and payloads to determine the best balance of cost and mission readiness. Once you've chosen a particular model and feature set, you can easily convert that rental into a purchase, thanks to Blue Skies' convenient options to buy a drone you've already rented. We work with agencies and municipalities of all sizes and can easily accommodate your purchase order and preferred supplier documentation needs.
Drones for Police and Law Enforcement
Whether your force is a small rural team or a large metropolitan department, there are police drones to fit a variety of tasks and budgets. Let's explore the following scenarios and see which drone fits each need: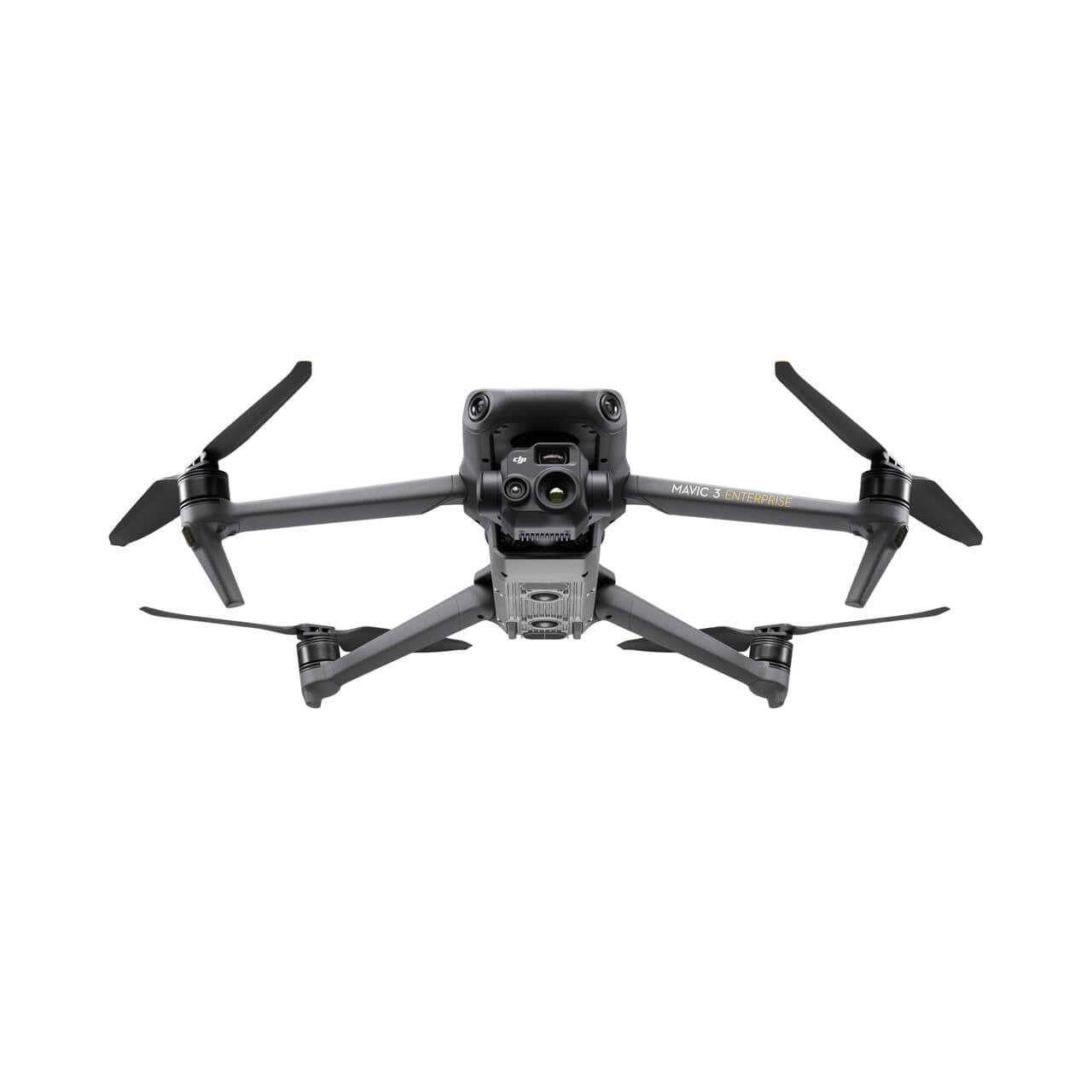 A drone that perfectly balances size and capabilities: The DJI Mavic 3 Thermal is small enough to easily carry in a backpack, but yields high resolutions photos and videos as well as Thermal capabilities. Tactical engagement scenarios that the Mavic 3 Thermal would excel at include surveillance, collision documentation, and aerial mapping in either 2D or 3D. 
A drone built for high speeds: With a live-view range of over 5 miles and a top speed of nearly 52 mph, the DJI Matrice 30T can help you pursue and locate even the quickest subject. Even high winds, up to a blistering 33 mph, won't affect the performance of this rock-solid law enforcement drone. With an IP55 rating this drone and remote can be operated in rain and snow if necessary.  The camera has 
The M30 Series integrates a 48-megapixel 1/2" CMOS sensor-zoom camera with 5×~16× optical and 200× digital zoom, a 12-megapixel wide-angle camera, 8K photo, 4K/30 fps video resolution, and a laser rangefinder which can give the precise coordinates of objects up to 3-1,200 meters away.
The M30T adds a thermal camera capable of 1280×1024 resolution and 16x digital zoom.
Rent a Matrice 30T for less than $1500 per week or ask for a quote for a kit to purchase.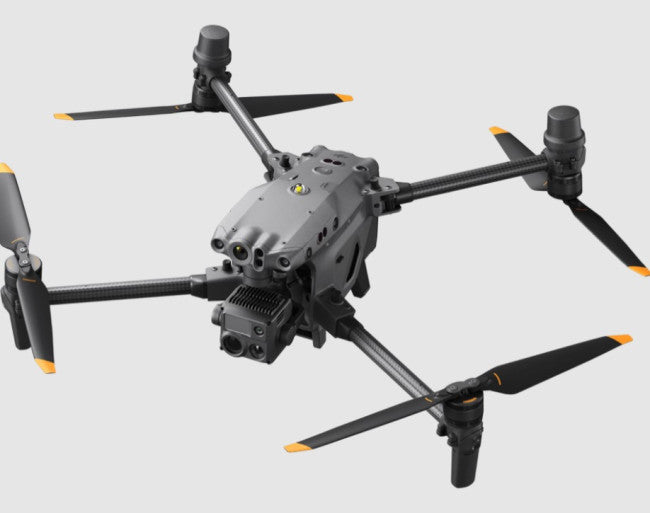 The ultimate surveillance police drone: When you need discreet monitoring from a long distance, the DJI Matrice 300 RTK drone can carry an astounding 23X hybrid  zoom camera! Discover and document even tiny details from a safe distance as you plan for the most demanding mission profiles. The M300 has flexible payloads, long battery life and a proven history of performance, making it one of the best law enforcement drones available today. You can rent an Matrice 300 RTK and H20T as a preconfigured bundle, giving you a turnkey aerial surveillance solution.  If you are a Law Enforcement Agency, contact us for a demonstration
Drones for Fire Departments and EMS Teams
Never before has technology provided so many options for keeping your fire and rescue crews safe. Drones can give you the upper hand when confronting unknown terrain, hidden flare-ups, explosion zones and any other area it's not safe to scout on foot. When flown by authorized first responders, drones can operate safely near ladders, in dense urban environments and through many other scenarios where manned helicopters would be unsafe, cost-prohibitive or simply too late.
The ultimate solution for fire department drones is a bundle with a thermal combo camera, like our Matrice 300 RTK  and Zenmuse H20T Thermal Combo rental. This high resolution thermal camera allows you to see hot spots in an existing blaze, telling you the optimal place for entry or cutting a vent hole. Using the thermal imaging technology, you can even get an approximation of how hot the burn is, giving you critical information about structural integrity and the likelihood of building collapse.
In search and rescue scenarios, thermal imaging means your search and rescue team can bring a drone that shows them body heat, whether human or animal.
Municipalities and private security forces need flexibility to respond to a variety of public safety scenarios. From crowd monitoring at a public rally or sporting event to patrolling borders, fences, and public lands, the mission profile can change rapidly and often without warning. Your public safety drone needs to change as the mission demands.
For maximum utility, consider a drone with an interchangeable camera, like the Autel Robotics EVO 2 6k Entperise. You can rent the Autel Robotics EVO 2 6k Enterprise Bundle zoom camera for as little as $375 per week. Featuring up to a 8X zoom, the camera gives you wide angle coverage and telephoto details that will meet even the most demanding public safety drone requirements–at a reasonable cost. You can quickly switch out for a thermal camera as well.
Accidents happen, but on an industrial scale, explosions or gas leaks can can be a huge public safety concern. Drones such as the DJI Matrice M210 can carry a variety of sensors to help you assess the nature of an accident and quickly take corrective action. The DJI Matrice 300 RTK with Laser Falcon (methane sensor) is an excellent example of advanced technology, delivered on a drone. Emerging technology partners like Icohup are even developing drone radiation sensors that can detect the type and magnitude of radioactive emissions in real time.
With many affordable and flexible options to rent or purchase, there's never been a better time to evaluate and test a drone for your needs as first responder drone customer. For other drone or payload needs that we haven't covered here, please contact us and we will craft a custom solution that exactly matches your requirements.