Introduction to Drones in Construction
In the realm of construction, the integration of drones has proven to be a transformative force, facilitating expedited work processes, enhanced safety measures, and cost-effectiveness. Whether you are an architect seeking validation for your creative vision, a vigilant site foreman overseeing crew activities, or a client closely monitoring the advancement of your new headquarters, drones offer essential imagery, data, and consistency, revolutionizing the construction process for improved efficiency and reduced costs. In the following sections, we will explore some impactful applications of drones in construction and highlight top-notch drone models tailored for specific tasks.
Construction Applications for Drones
Site Surveys, STOCKPILES and Planning
Initiating construction on a new site requires meticulous understanding of existing features and topography to optimize the utilization of computerized planning and Building Information Modeling (BIM) systems. Construction drones excel in providing accurate measurements through visible light cameras and various sensors. By capturing precise 3D maps and distance measurements, these drones empower construction teams to analyze data seamlessly in the project trailer, ensuring a comprehensive and informed approach to site surveys and planning.
For your first experience in surveying a site, we recommend starting with a rugged but easy-to-use construction drone such as the Mavic 3 Enterprise. The Mavic 3 Enterprise  can create both straight down 2D surveys and, using a variety of intelligent flight planning apps, make a second pass at an angle so that you can automatically assemble an accurate 3D model. All of these capabilities are possible with an easy-to-fly drone that costs just a little more than a toy!  Add the RTK module and tie into an absolute coordinate system for even higher and better accuracy.
For users seeking enhanced capabilities, a recommended upgrade involves transitioning to a lidar-equipped drone, such as the DJI Matrice 300 or 350 RTK with the DJI Zenmuse L1 or L2 lidar system. Lidar modules employ numerous pulsed laser beams to intricately measure objects, generating millions of data points. These 3D point clouds can then be transformed into a cohesive 3D object, providing precise representations of even the most intricate environments.
Various lidar options exist, catering to specific needs based on your use case, desired accuracy levels, and the extent of area coverage required.
"You'll instantly know the true costs of preparing your site"
Feeding the data captured by a drone into construction planning software and overlaying with proposed building drawings will instantly show any potential mismatches between terrain, existing structures, and even vegetation. You'll instantly know the true costs of preparing your site for groundbreaking and can make better decisions about how to best utilize the area where you'll build.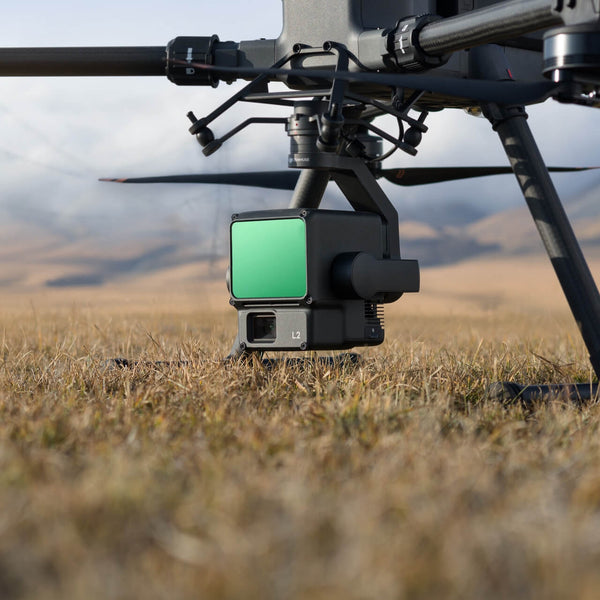 On larger sites that require extensive ground work, like highways, railroads, bridges or parking lots, you'll need a drone that can fly further and longer. The Quantum Systems Trinity Pro takes off and lands vertically, but then flies like a fixed-wing airplane for missions of up to 90 minutes on a single charge.  You can even have LiDAR on this VTOL drone.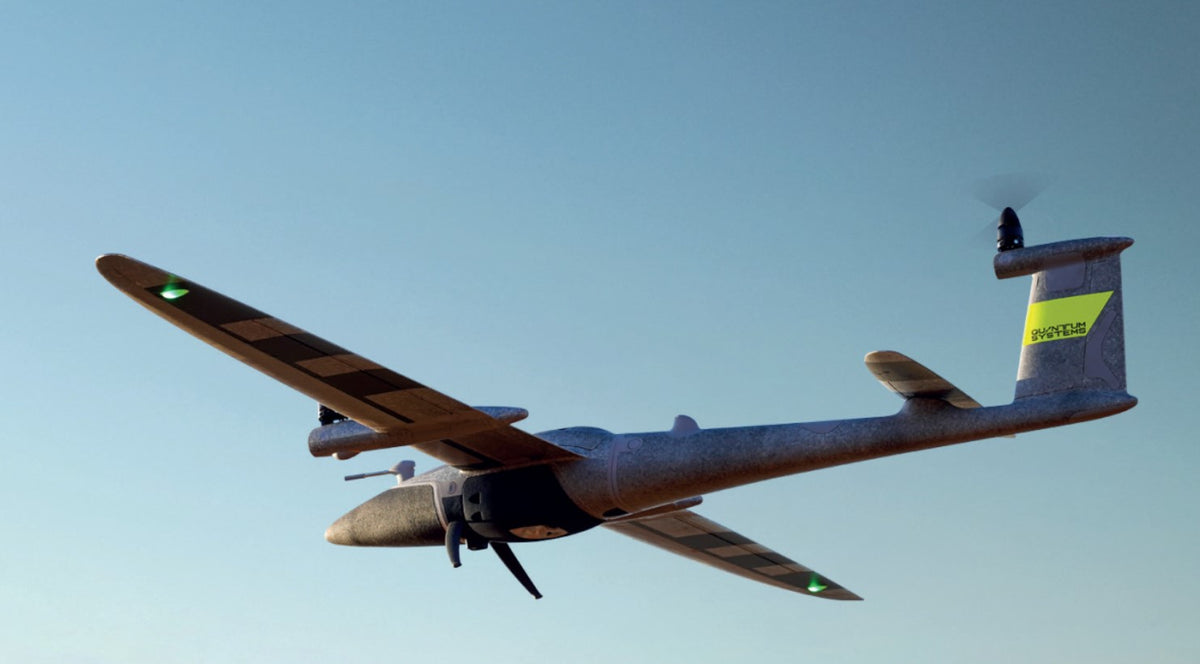 With flight speeds over 50 mph, the Trinity's high resolution visual camera can capture an astounding amount of image data in a short period of time. For the ultimate in flexibility, Trinity's modular payload bay means you'll be able to accomplish whatever mission the project requires, including a LiDAR payload
Stockpile volume verification
As a construction job progresses, raw commodities such as fill dirt, gravel, or other aggregates can easily stop work if you run short of a key ingredient. These volumes of loose material have been notoriously difficult to estimate in the past, but with aerial surveys and 3D measurement capabilities built-in to a variety of popular drone apps such as Pix4D and DroneDeploy, you'll know to the nearest cubic foot how much material you have. Armed with precise volumetric data, your usage rates, costs, and re-order points will become simple to monitor.
Consider the all-purpose Matrice 350 RTK as an excellent construction drone option to start with as you complete your first stockpile survey. The M250's flexible payload options, long flight time, and rugged, weather-resistant design will allow you the versatility to tackle any job on site.
Visual Progress Reports & As-Built Verification
Because drones can fly automatically based on precise coordinates, you can take identical photos from the same locations with consistent viewing angles. This feature is a perfect tool for communication with architects, shareholders, and future tenants. They'll be able to easily see progress on the building site as you show them a series of images that can be compiled into a time-lapse movie or stacked as a "before and after" collage.
Another fantastic application of the visual camera in products like the Mavic 3 Enterprise Series is the ability to accurately document the actual construction so that it can be compared with the original designs. This "as-built" model can even be ingested by certain BIM packages and automatically compared to the designs, with discrepancies flagged for review. Is a beam too long, a window misplaced, a concrete pad oriented in the wrong direction? The 3D rendering produced by the drone will show, visually, the comparison to plans at every step and will allow correction before the mistake is obscured by future layers of work.
Inspection Without Risking Lives
As any site foreman will tell you, climbing on a job site brings the potential for falls, dropped equipment, or collapsed scaffolding. Gravity can be a potent enemy! Fortunately, drones do the jobs that are too dangerous to safely attempt, especially when inspecting tall structures. Whether you're building a skyscraper or a three-story townhome, drones can fly in close to see details that would be invisible from any other vantage point.
When flying close to inspect isn't an option, we recommend using the Matrice 300 Series  you can get even great zoom capabilities using the Zenmuse H20T with zoom and thermal!  This has a 23x hybrid optical zoom (up to 300x digital!) plus a laser range finder up to 1200 meters away pinpointing the GPS Coordinates.