Description
Deluxe model for high performance training
Building on the popular TD model, the deluxe TD2 Flight Simulator offers the option to fly with or without retractable landing gear, a constant speed propeller and a high performance engine. It's the most capable, complete simulator you can find for under $10,000.
Complete terrain and airport database allows you to fly realistic missions, and the failure hotkeys are ideal for emergency procedure training – you can fail the attitude indicator with the touch of a button. Choose from a variety of scenarios to fly, from basic VFR flights to low instrument approaches. Also ideal for glass cockpit transition training, with buttons and knobs that mirror Garmin's popular G1000 system (choose glass cockpit option).
Like the TD, the Redbird TD2 is uniquely designed to be a table-mounted flight training device, and it's designed with the ergonomics of flight in mind. Traditional "desktop" flight training devices sit on top of a table or desk, causing the pilot to reach up for the yoke and to look unrealistically high for the gauges. The TD2's unique mounting system allows it to be hung under the table, placing the yoke, switches, gauges and visuals in the correct and most realistic position for the pilot.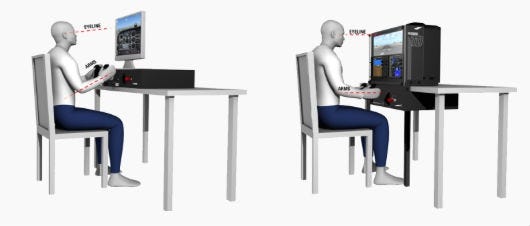 Comes with everything you need to start flying, including controls, screen, computer and more – just add a table! No calibration or software setup required. Just turn it on and start flying. 
Table and Installation Requirements:
You will need a sturdy, solid table with a maximum tabletop thickness of 2.25" including any rails and the underlying structure. There should be at least 29" between the legs of the table to allow the TD to slide on to the table smoothly. Please note that you must install the adjustable supporting leg for added stability.